9 Tips to Designing Your Dream Salon
When setting up your salon, it's easy to feel overwhelmed. From your salon layout, to interior design schemes, to price lists, to products, there are a lot of things to consider. But remember, creating your own salon is supposed to be fun! Here are 9 salon decor ideas to help you create the salon of your dreams.
How Do You Design a Salon?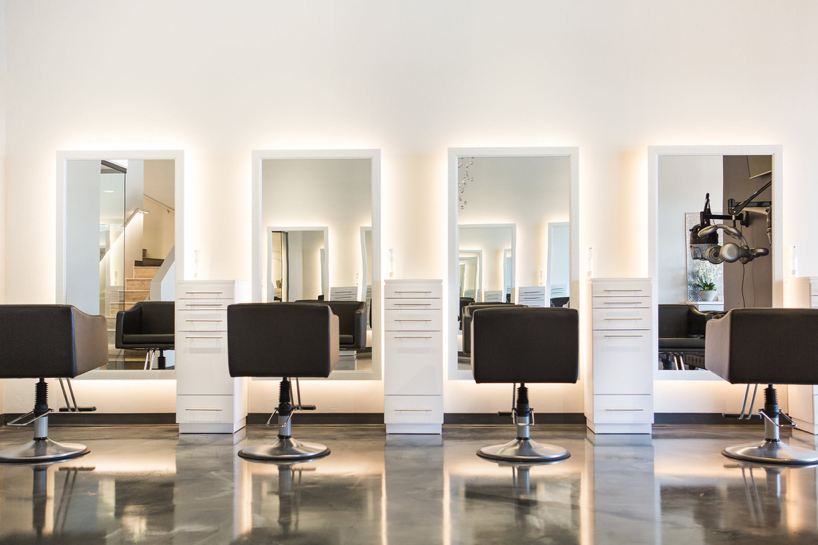 Photo: Hermosa - Edmond, OK
1. Create The Perfect Lighting
One of the most important features in your salon is light. Natural light is always preferred, but not every building is blessed with great windows. If you do have windows, great! Utilize them. Set up your space so every station can benefit from the sunlight. But if you don't have big windows, there are other ways to light your space.
When choosing light for your salon, keep in mind that the main goal is for your client to look good. If they're looking in a mirror and don't like what they see, they're not going to be happy with your service. Our Bali Tall Styling Station & Mirror (pictured above) work to help improve the lighting in your salon. For a more flattering light, choose warm bulbs instead of cool ones. When placing your lamps, make sure the shadows don't overlap where your client will be sitting. Also consider if you want behind-the-mirror lights, or if you want to have overhead lighting only, or standing lamps.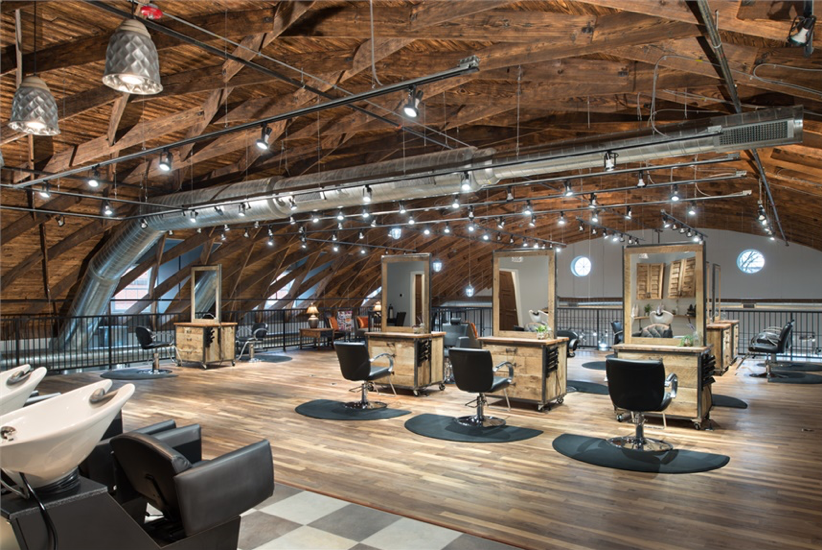 Photo: The Boulevard Hair Company - Webster Groves, MO
2. Lean Into Your Space
There are hundreds of ways you can decorate your salon's interior. Instead of overhauling everything and starting from scratch, try leaning into the look that your space already has. If you have exposed ductwork, go for a rustic vibe. If your walls or floors are concrete, give your salon a modern feel. It is also important to make sure your salon equipment matches your vibe, like the Odin Styling Chair featured above.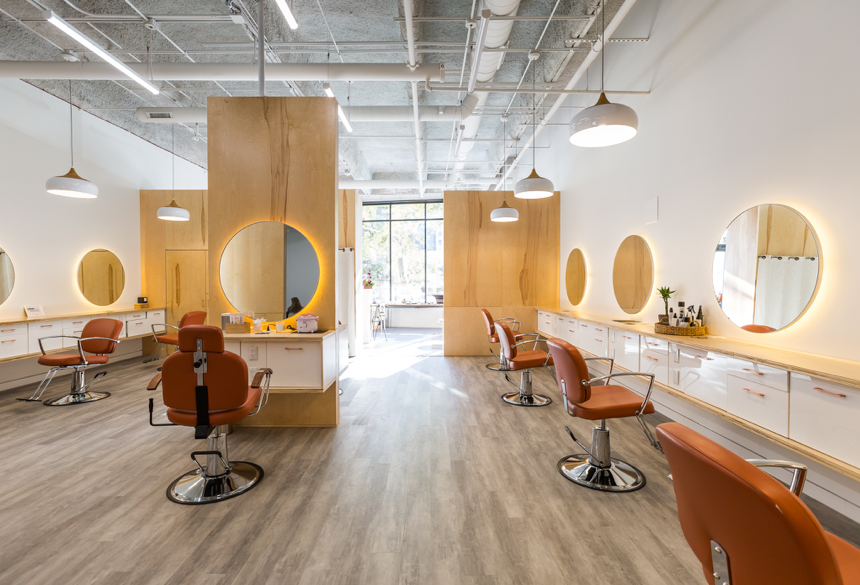 Photo: Detroit Blows - Detroit, MI
3. Reflect on Your Reflections
Every client who comes through your doors is going to be sitting in front of a mirror, so it's important to pick one that's right for you. Big, multi-station mirrors will make your space feel larger and more open, while single-station mirrors will make each spot feel more intimate. Go for framed mirrors for a homier aesthetic, or naked mirrors for a sleeker look. And remember, when you're placing your mirrors, make sure you keep your lighting in mind. You don't want your clients ending up with blinding lights in their eyes!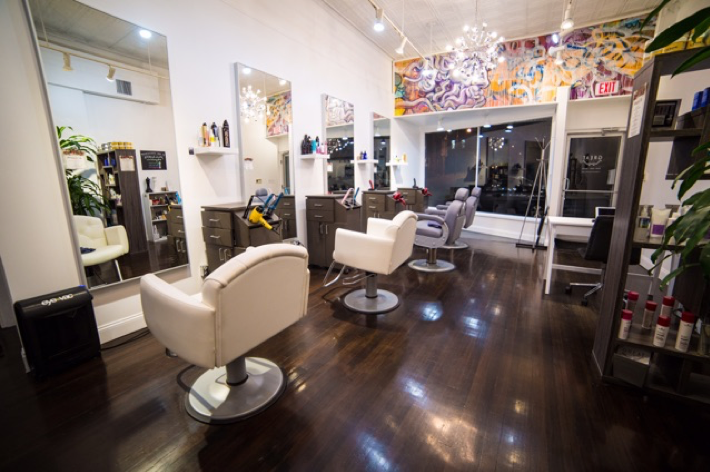 Photo: The Great Studio - Poughkeepsie, NY
4. Thinking Outside the Box
When designing your space, don't just think about the standard four walls. Expand your design to the floors and ceilings. Brighten up your space with a colorful ceiling, or make your rooms feel more spacious by painting them white. And your clients will have something nice to look at while getting their hair washed.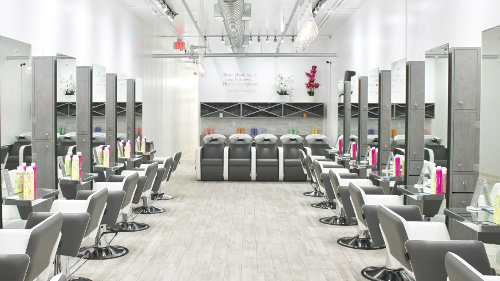 Photo: Blow Me Away - Great Neck, NY
5. Stay Cohesive
Once you've chosen your aesthetic, stick to it. You want your entire salon design to feel cohesive. If you want a shabby-chic entryway, your stations should match. If your waiting area is done entirely in blacks and whites, carry that scheme throughout the space. You don't want your clients to walk from one area to the other and feel like they've stepped into a different salon. In the salon pictured above, our client chose the Kite Styling Chair and Iconwash Backwash Unit for their matching style and color options that flow well with the rest of the salon.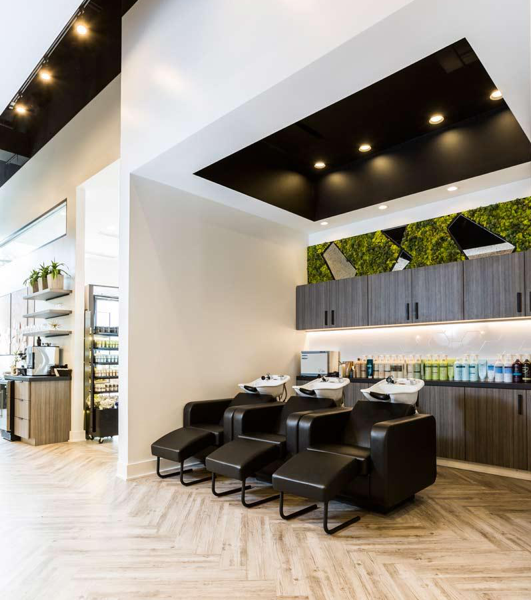 Photo:
Lavish Salon
- Webster, TX
6. Feel Your Flow
Similar to the cohesion of your space, you want the flow to be right, too. Think about your space from a client's point of view. Does your salon layout make sense? Is your waiting area in the front when you walk in, or farther to the back? Do you want your washing stations to be the first place your guests sit down, or do you want to bring them to their station and discuss their hair options first? Line up the decoration and creation of your space with the way you want the salon to function.
You also want to make sure the space works for your stylists. Nailing the amount of space around each styling chair is key to making sure you maximize your footprint without setting up your stylists to bump into each other all day long. So, how much space should there be between salon chairs? Our experts recommend leaving 3 ½ - 5 feet between chairs to give stylists room to work and clients their personal space.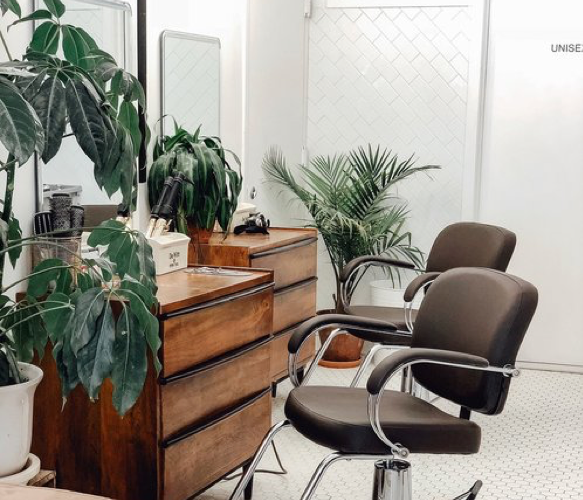 Photo: Love, Dunette - New York, NY
7. Go Green
Breathe life into your space by adding plants. Not only do they clean the air and supply oxygen, but they give any area a pop of color without being overwhelming. Bringing plants inside will also give your salon a natural, calming feel.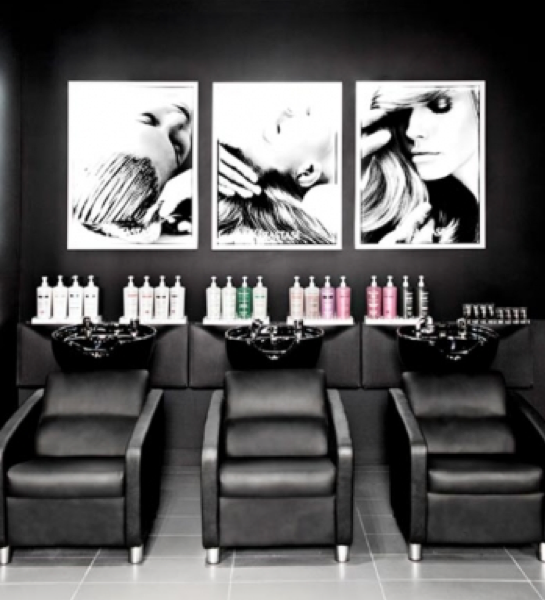 Photo:
Espace Carte Blanche
- Montreal, Canada
8. Make a Statement
If you have a bland wall that you're not sure what to do with, turn it into a statement wall. Adding a big, bold art piece will catch the eye immediately. And any art piece will work! It doesn't have to be salon-themed to tie your space together. Anything that speaks to you will do the trick.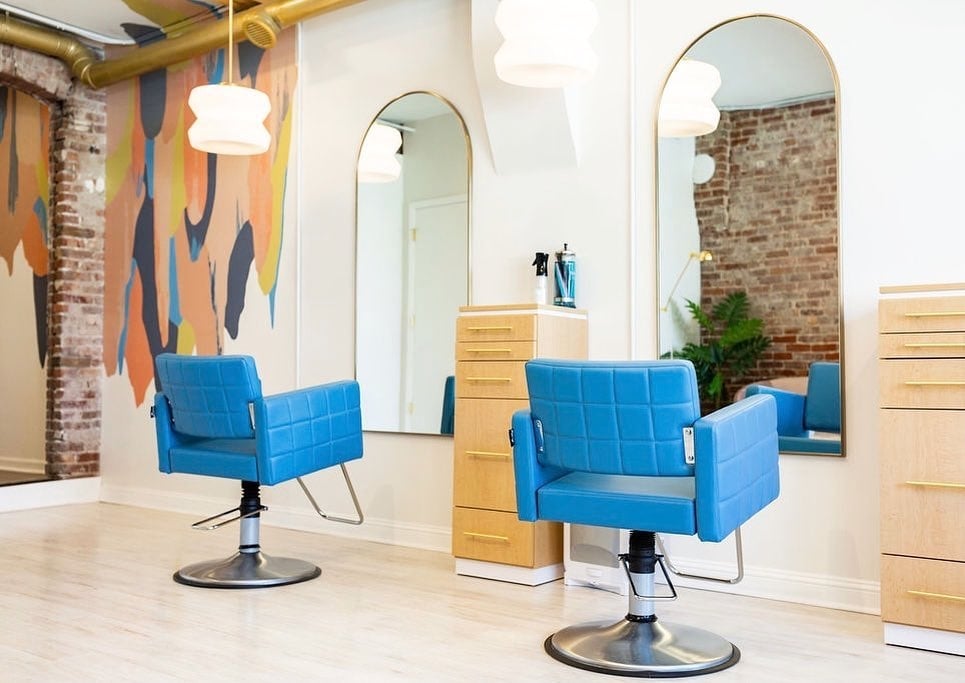 Photo: Penelope June Salon - Greenwood, IN
9. No Detail is too Small
Everything that goes into your salon matters. From the layout of the space to the colors on the walls, down to the way you display your products—every detail becomes a part of your brand. So don't skimp on the details. Make sure your towels match, your products are displayed nicely, and your stations are uniform. In the salon pictured here, the bright blue of the Belvedere Nova Styling Chairs matches the blue tone in the mural. Like we said: no detail is too small.
Designing the interior of your salon is an important, but fun and rewarding, step to take for your business. Just remember to keep the layout consistent, the energy flowing, and to remember the details — they make all the difference. If you're not sure where to begin, we can help you! Check out our free salon design and layout services page to learn more.