How to Start a Cosmetology School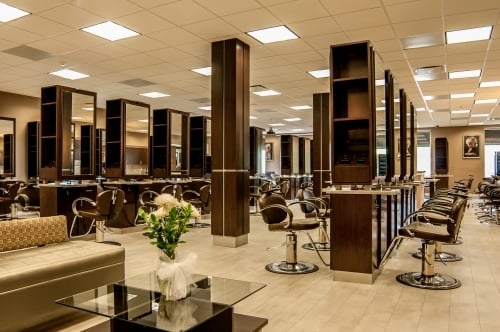 Photo:
PB Beauty School
- Gloucester, NJ
When you're opening a cosmetology school there are many things you'll need to consider. From classroom layout decisions to local permit applications to selecting your equipment and supplies, you have a lot of decisions ahead of you. Whether you're just getting started, in the process of choosing the perfect location for your beauty school, or already open and renovating an existing space on your campus this guide will help you make the decisions you need to!
If all goes well, your school will soon be bustling with students. Which means you not only need a welcoming learning environment and ergonomic layout — you also need durable, warrantied equipment that students can use over and over again. Below you'll find questions to consider as you plan your cosmetology school, whether you're privately or publicly financed, from creating a blueprint to choosing equipment.
Finding an Advisor
There are a number of steps and decisions to make when opening a beauty school. On top of decisions about which equipment you'll need and how to best layout your school, each state has different regulations and requirements that your school must meet.
Ideally, you'll have an advisor on your side who can guide you through the process. To find an experienced advisor who can help you layout, design and equip your space while meeting state requirements, visit our consulting page.
Following State Board Requirements
Every state board is different. In order to receive your license to operate, you'll need to meet requirements regarding space, layout, student requirements, classrooms and more. Before making any major decisions, it's important to research your state's requirements, as they will determine the entire process.
Another factor that will majorly impact your school's layout and equipment is your core curriculum. Many states dictate which classes beauty schools must offer, and the cosmetology board must approve your course offerings and curriculum. You'll need to review the state board requirements before selecting the planned instructional activities, their scope, and scale. Once these decisions are made, you'll be ready to move on to space and layout planning.
How State Requirements Impact Your Layout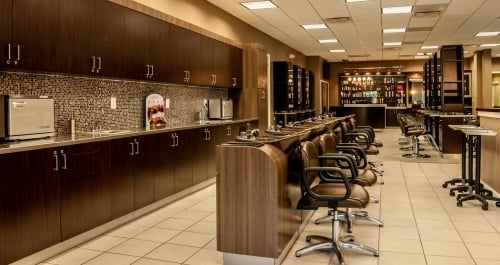 Photo:
PB Beauty School
- Gloucester, NJ
Most states will require you to have a certain amount of square footage, as well as a specific layout (classrooms, open space, pods, etc.), a diagram of classroom structure and more.
For example, Pennsylvania requires beauty schools to have at least 2,750 square feet of space, with 750 square feet set aside for classrooms — that's for a maximum of 25 students. In Michigan, you must submit a diagram of your class structure along with your application for a cosmetology school permit. The board will then inspect your premises in person, looking for a full experience including learning tools such as curling irons, styling stations, synthetic hair, shampoo bowls and more.
For this reason, it's important to know your state's regulations before ever signing a lease or making layout plans.
Planning the Layout of Your Beauty School
Beauty School Layout Example: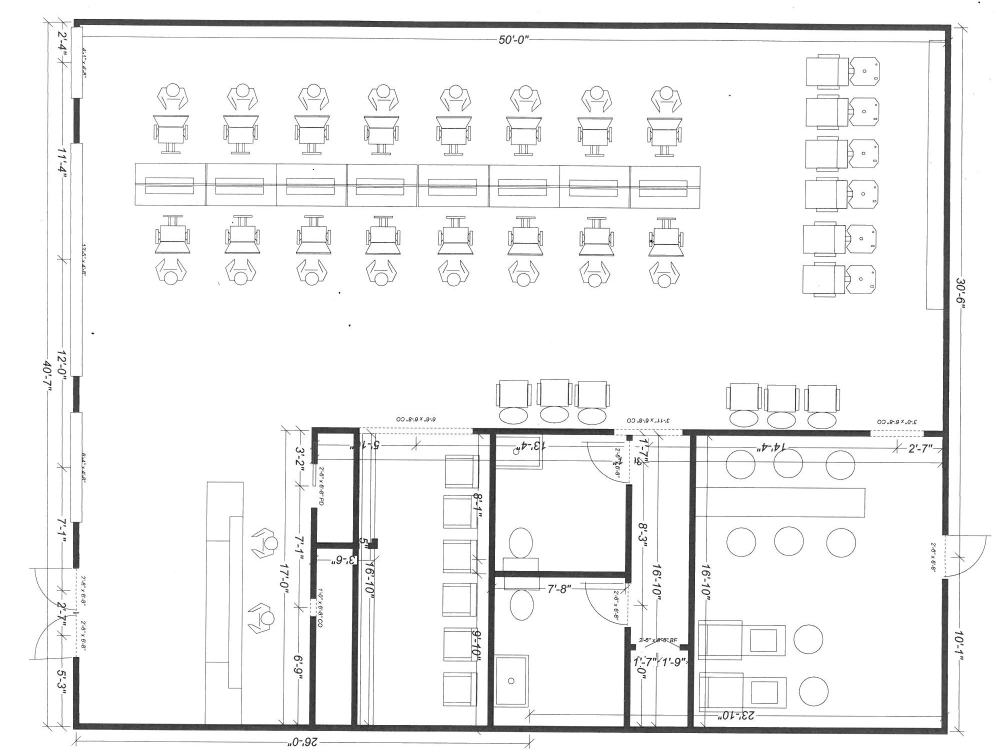 A successful beauty school not only serves as a place to learn but also a fully functioning salon that draws in beauty customers for students. For that reason, you need to create a space that accommodates both students and clients.
What's more, when it comes to plumbing and electricity, you'll need to work with the space you have (unless you're building your school from the ground up). It's extremely important to map out where your plumbing and electrical hookups will be. Especially when dealing with students, there may be electrical or plumbing needs in addition to those found in a salon space. Make sure you consult an advisor to lay out your space properly.
The best way to juggle these competing needs is to think ahead and plan extensively. Start planning for your beauty school's success by asking yourself the following questions:
On a given day, how many students will be on the floor at the same time? How many will be in each classroom?
What are your technology needs? For the classrooms and for the students?
How many classrooms do you need?
Will your students practice mainly cut and blower work, set work or both?
What is your total budget, and what is your budget per station? Per student?
Where will your reception desk and waiting area be located?
Do you prefer to have an isolated shampoo area? How many bowls will you need?
Will you have a separate color processing area? How many processors will you have on the floor? Wall-mounted or on wheels?
Will students practice waxing, massage, facials, or other spa-focused treatments? If so, how many treatment rooms will you need for these?
Will your students learn manicure and pedicure skills? How many chairs will you have?
Where will the students keep their supplies when not at school? Do you need lockers? What does the state require?
How many restrooms will you need?
What are your HVAC needs and limitations?
Is your water heater gas or electric? What is its capacity?
Do you want to create an open-concept space or a classroom approach? What does your state board require?
How do you want customers to experience your school? How can you decorate your school in a way that's warm and welcoming and can compete with other salons for business?
Choosing the Right Cosmetology School Equipment
A successful beauty school needs equipment that not only meets curriculum requirements but also stands up to long-term use. Here are some factors to keep in mind when choosing equipment and furniture providers:
Durability
With each workstation in use by multiple students per day, your equipment will need to be long-lasting. It's crucial to furnish your school with quality, durable equipment backed by a long warranty to ensure you get the best bang for your buck.
Customization
Every school layout is different, especially with rules and regulations varying across all 50 states. Finding a provider who can create custom-made furniture that fits your space can be a huge differentiator in the beauty school space.
The Right Provider
When purchasing multiple pieces for a school, you'll want to find an equipment provider who specializes in beauty schools and can supply the whole package. Find a provider who can sell you more than a few pieces and can advise you every step of the way, helping with layout, space planning, bulk-package pricing, etc.
Additional Storage
Beauty schools are very similar to salons, spas, and barbershops — but they're different in terms of the amount of storage space needed. Your student body will have equipment that shouldn't leave the premises, such as mannequins, toolkits, linens, product and more. And they'll need a place to store their equipment when they're not in class.
Beauty School Chairs
How you choose your chairs will depend on your curriculum. Do you need a normal styling chair or one that is multi-functional and able to lean back? Make sure to choose a chair with a quality hydraulic pump, as the performance of your chairs are a big factor in your students' experience.
Beauty School Stations
What station set up will work best for your space? There are multiple options to choose from that can help maximize your space — back-to-back, tri-, quad- and even hex-island stations. Some of these units can even come with built-in lockers and cubbies for extra storage. Check out our selection of double-sided stations that are perfect for beauty schools!
Beauty School Shampoo Bowls
A crucial question: will you teach sidewash, backwash, or both? This decision will dictate your plumbing requirements, as well as the type of equipment you'll need for your shampoo area.
Beauty School Dryers
No cosmetology or barber school is complete without the right hair dryers. Does your space allow for dryer-chair combos, where the dryer and chair are connected? Or will you need to install wall-mounted dryers instead?
Making It Beautiful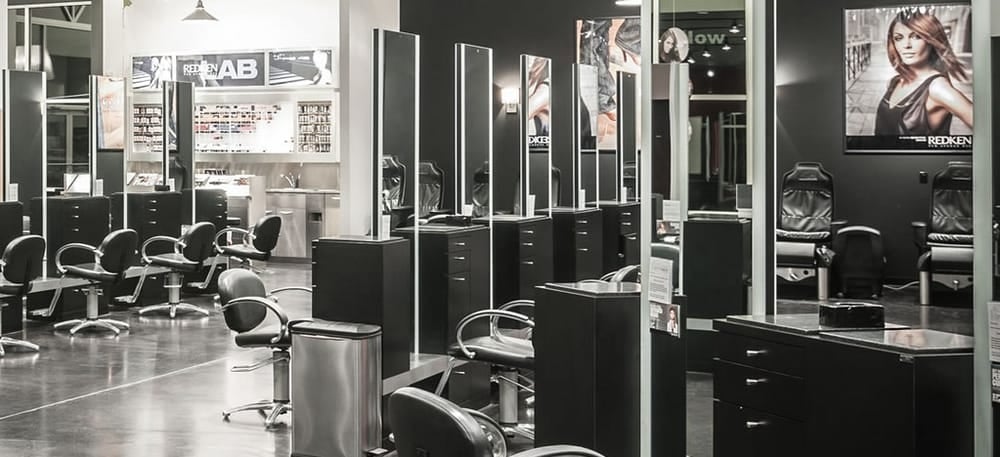 Photo:
City Pointe Beauty Academy
And last, but not least, think about the aesthetic of your beauty school. Not only will students be learning here, but real customers will also be coming here for salon services. Your school needs to have that professional salon feel, complete with colors, design elements, and an overall theme. This will give your students a better understanding of what it's like to work in salons after they graduate It will also make customers feel less like they're being practiced on at a salon school, and more like they're getting professional services at a real salon. After all, helping customers feel comfortable and relaxed one of the main goals of any salon – why should your school be any different?
Looking for more advice on how to furnish your beauty school? We're here to help you plan your school every step of the way. Fill out a contact form or call us today at 1-800-477-6655.