If you have ever considered entering the senior beauty services market, now would be an excellent time. According to the US Census Bureau, there are more than 54 million US residents aged 65 and over as of July 1, 2019. Today's senior population is aging well, living longer, healthier lives, and enjoying more active lifestyles than any generation before them. As a demographic, seniors are extremely savvy consumers and hold more discretionary income than any other segment of society,and current trends reflect how this market potential has yet to be fully tapped.
So, whether you are considering opening an assisted living salon, a hair salon in a retirement home, or simply looking to increase your mature clientele at your current salon here are some tips, guidance, and advice that can help you in building the perfect salon for the elderly.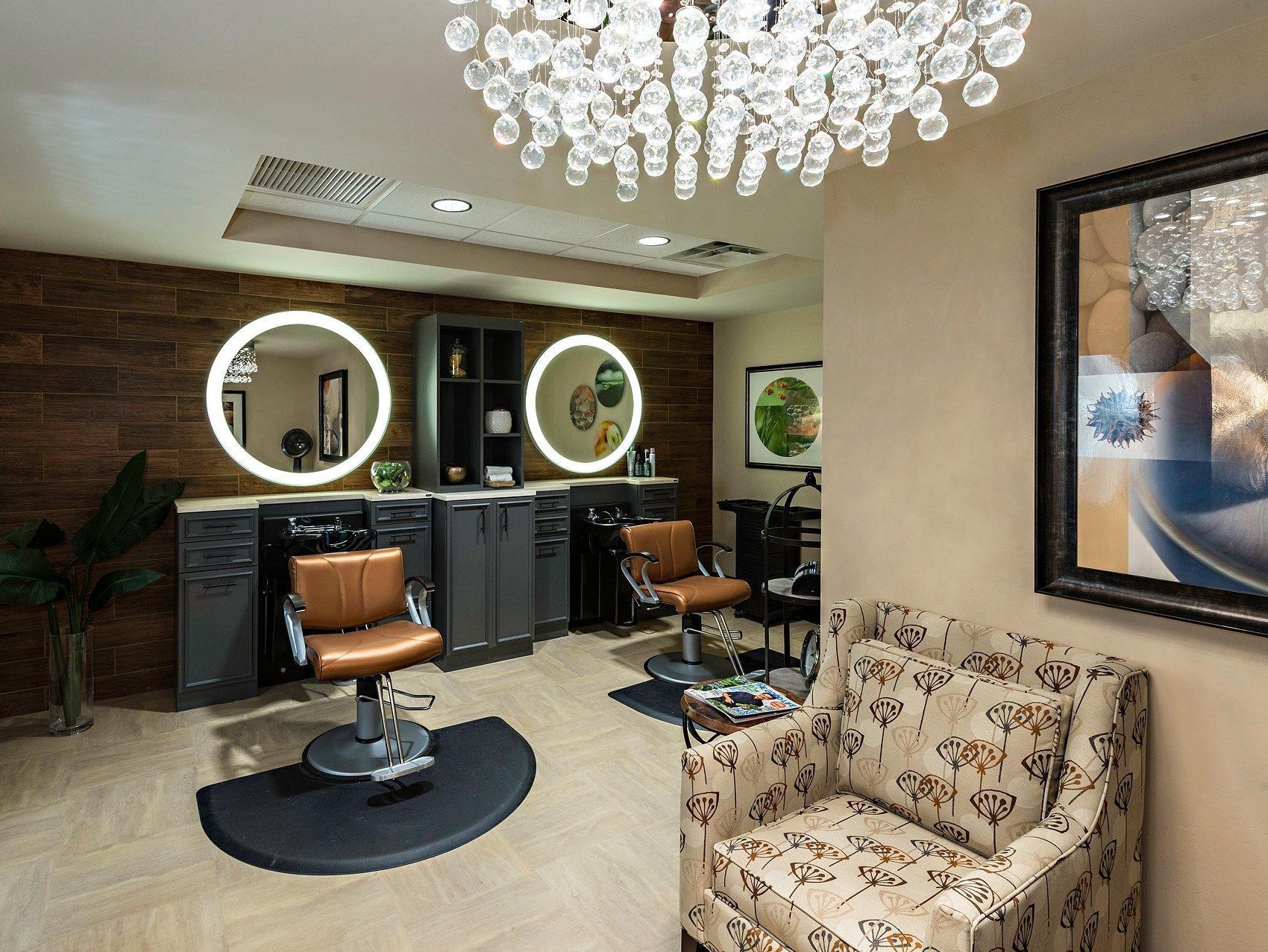 Comfort, Safety, and Accessibility
For many senior care facility residents, a visit to the salon is one of the highlights of their week, and client comfort and safety are a top priority. Senior living salon design promotes safety and easy access into and around the area. During the design and layout phase, be sure to think through where and how your elderly clientele will move through the typical beauty services. For those elderly clients with walkers or wheelchairs, disability-friendly floor plan design will make everything faster, smoother, and more comfortable for them. You want to be very mindful that this process is safe and easy for your clients as previously mentioned, this salon visit should be a relaxing highlight of your client's week, not a dreaded physical burden.
As you work through your salon opening checklist, consider these accessibility factors during every step. Providing comfortable equipment for your elderly clientele is going to be vital, especially for those salons utilizing services that may take long periods of time as those services can be difficult for anyone to sit through, but specifically for an elderly person. Be mindful during equipment selection for chairs that provide easy access in and out, as well as those that have excellent lumbar support. Both attributes will promote a comfortable experience for your elderly clients' lengthy salon service.
Popular Equipment for Senior Hair Salons
When selecting equipment and furniture geared toward catering to an older clientele, it's important to keep comfort and accessibility at the forefront of your decision-making and selections. There are many different types of equipment that you should consider that promote safe, comfortable, and easy access in the salon for elderly clientele. Common equipment categories for the elderly include all-purpose salon chairs, senior living salon wet stations, adjustable shampoo bowls, and easy-access drying stations. Below, we dive into each of these areas to provide our expert recommendations and guidance when it comes to choosing the best equipment for your assisted living salon.
Assisted Living Salon Chairs
When it comes to selecting a chair for your assisted living salon, it's important to consider the services that you're planning to provide. All-purpose chairs that can recline are the most common selection for most assisted living salons due to their multi-functional abilities. These types of chairs can be used for styling, shampooing, and other services that require a slight recline. Three very popular all-purpose salon chairs that promote easy access, comfort, and multi-functional use are the Sue All Purpose Chair, the Collins 7710 Access All Purpose Chair, and the Pibbs 5446 Loop All Purpose Chair.
Salon Wet Stations for Senior Salons
In an effort to limit the amount of movement required by elderly clients, most assisted living salons to choose an all-in-one salon wet station with built-in styling and shampoo equipment. These salon wet stations are extremely popular in the eldercare salon space as they allow the elderly client to remain in the same chair for all or most of their salon services. Common assisted living wet stations to include the Bali Professional Barber Station, the Collins QSE 5515-48 Deluxe Wet Station, the Collins QSE Cameo Wet Station, and the Collins QSE Reve Wet Station. Each of these units has been built specifically for those salons catering to elderly clients who struggle with movement.
Adjustable Shampoo Bowls for Elderly Clients
For those assisted living salons that choose to separate their shampoo area from their styling area (due to preference or space limitations), there are many different shampoo stations that allow for easy access in and out that are equipped with highly adjustable height and comfort positions. The Adjust-a-Sink K100 Hydraulic Shampoo Unit is an incredibly popular product that is specifically manufactured to cater to those clients in senior or health care facilities who are unable to comfortably leave their wheelchair – the client is able to remain in their wheelchair for the entire shampoo service. For those elderly clients who are more mobile and unconstrained to a wheelchair, the Chelsea Backwash Unit is a very common selection due to its highly adjustable tilting shampoo bowl, thick back, and seat cushions, and inviting access.
Senior-Friendly Drying Stations
Doing hair at nursing homes and assisted living centers also requires safe and comfortable hair drying. When selecting a drying station for your elderly clientele, it's important to understand your options. For those salons that are prioritizing minimizing as much movement as possible within the salon, mobile dryers such as the Meredith Hair Dryer, Pibbs 514 Kwik Dryer, and the Collins Temptura Hair Dryer, are adaptable to any salon space and make it extremely easy to create a drying station anywhere inside the assisted living salon. For more distinct and separated drying stations, dryer and chair combinations such as Kate Dryer Chair Combo, Aria Dryer Chair Combo, and Chelsea Dryer Chair Combo are all excellent chairs with built-in dryers.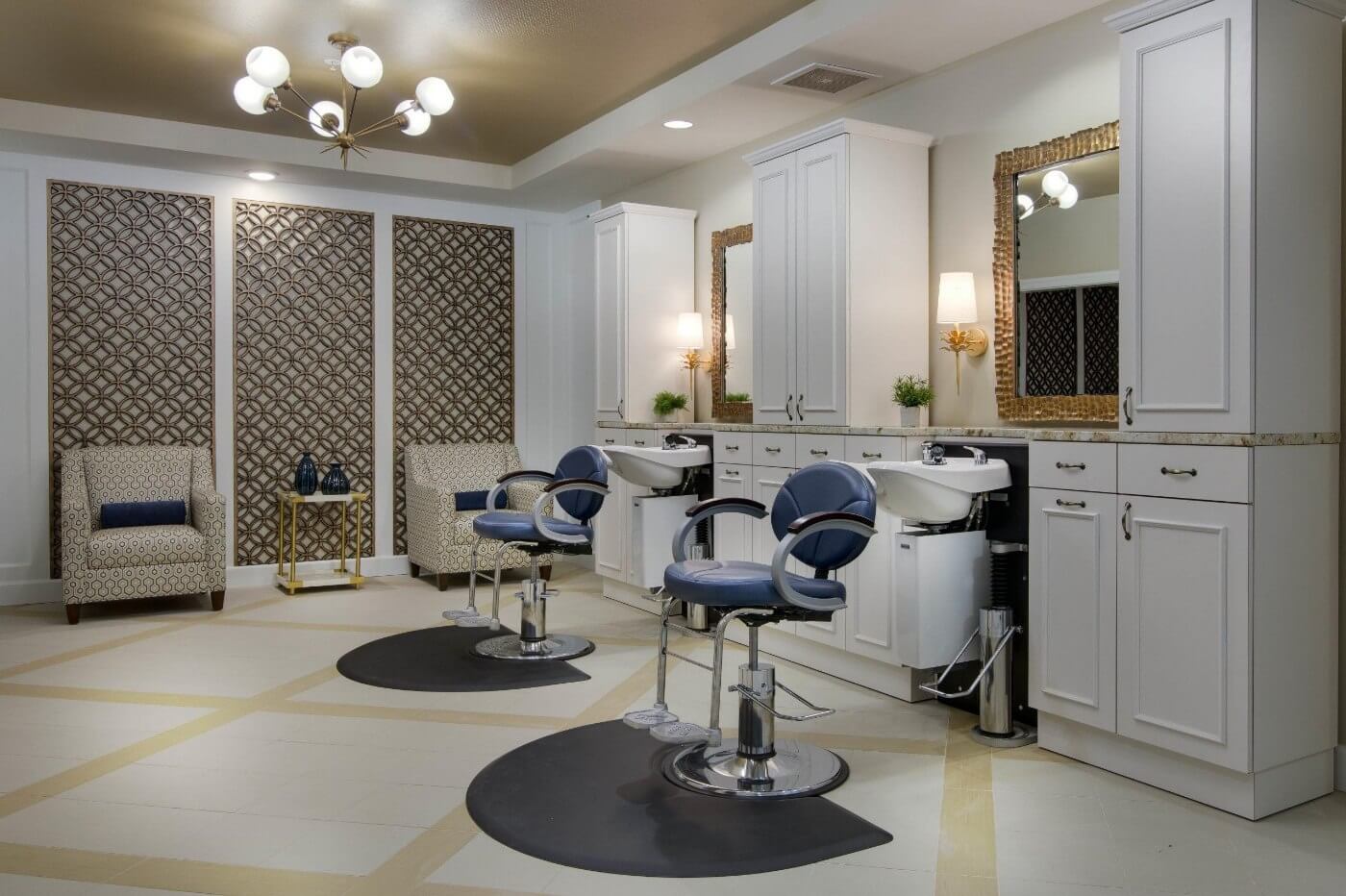 Reception Seating for Seniors
Waiting chairs must not be ignored when designing your assisted living center waiting and/or lounging area. Reception chairs that sit up tall, provide solid lumbar support, and are easy to access in and out are a must for these spaces. Catering to those waiting for their service to commence can always be a challenging task, but it becomes even more challenging with clients who are older and less mobile. The Diplomat Leather Reception Chair, the Sara Reception Chair, the Collins Lisbon Reception Chair, and the Collins Cigno Reception Chair are all very popular options in assisted living salon reception spaces. These pieces are renowned for their upright position and support, and easy access in and out.
Senior Living Salon Design with Color in Mind
Choosing appropriate colors when designing a hair salon for elderly clients is significant because as people age their senses and preferences begin to change. An older client may struggle with glare and contrasting colors can be helpful in differentiating the various areas of your salon. Choose colors that are easily digestible on the eye as your color palette, and paint selections will set the tone for the entire space. Soft colors such as beige, soft green, stone, pistachio, taupe all stimulate relaxing environments. It is vital to include discussions about color when designing for the senior client, whether it's for a senior living facility or an existing salon. For more information on general salon designing tips, check out our 9 Tips to Designing Your Dream Salon.