Looking for the perfect barber chair for you and your barbershop, but having a hard time finding one to suit your unique needs? With over 120 years of experience, the experts at Buy-Rite are here to help! We put together a list combining the best-of-the-best barber chairs in price, quality, durability, style, and functionality to help you find your dream barber chair!
The Caesar Gold Professional Barber Chair tops this year's list for its vintage style. Between the eye-catching gold metal frame and antique style, this barber chair sure to elevate any barber shop. But it's not just nice to look at: the the Caesar's durable rounded seat, padded armrests, and classic flip-style footrest ensure your client's comfort comes first. Finish that off with classy design accents and an old-fashioned hydraulic base, and you've got our favorite barber chair on the market!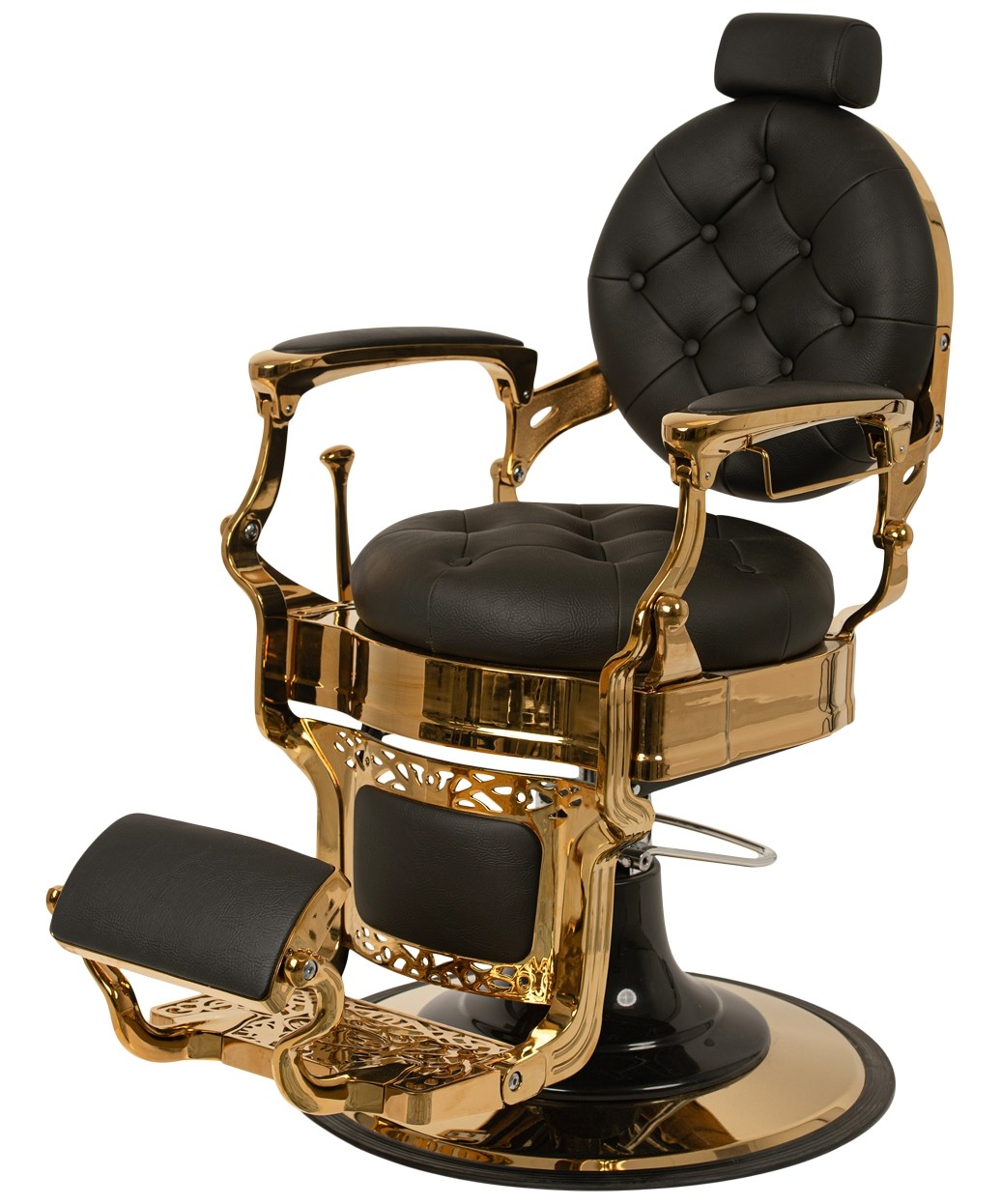 The K.O. Professional Barber Chair scores high for its durability, great price, and functionality! The K.O. features a durable extra-large 28" chrome base, a supportive steel frame, an extra-wide, cushioned seat for extreme client comfort, a fully adjustable headrest, and an adjustable footrest that kicks out when the chair is reclined. K.O. barbershop chairs are a great price for their quality and create a comfortable experience for your clients while making it easier for you to provide your services!
Fasten your seatbelt – it's time to take a trip down memory lane! Looking to have unique barbershop chairs that give your customers an extraordinary, nostalgic experience? The Alesso Professional Barber Chair is perfect for you – bringing a modern touch to a retro-classic design. This upscale barber chair features solid steel construction with a stylish, brushed gunmetal finish, with durability that allows a weight capacity of up to 450 lbs. The Alesso is crafted with the utmost client comfort in mind, with a notably soft and supportive tufted design on the rounded seat and back cushions, a fully adjustable and removable headrest, padded armrests, and a classic flip-style footrest. Finish all that off with its ornate and classic design accents, and you've got one of the best – and coolest – barber chairs on the market!
The Maddox Barber Chair combines the best of modern and classical styles, and it's built to last. Featuring a diamond stitch pattern, durable reclining mechanism, adjustable headrest, and professional hydraulic pump, the Maddox is designed to offer long-term utility – without sacrificing your clients' comfort. The platform footrest also comes complete with a padded calf rest that will truly elevate the experience of receiving a cut, shave or shampoo.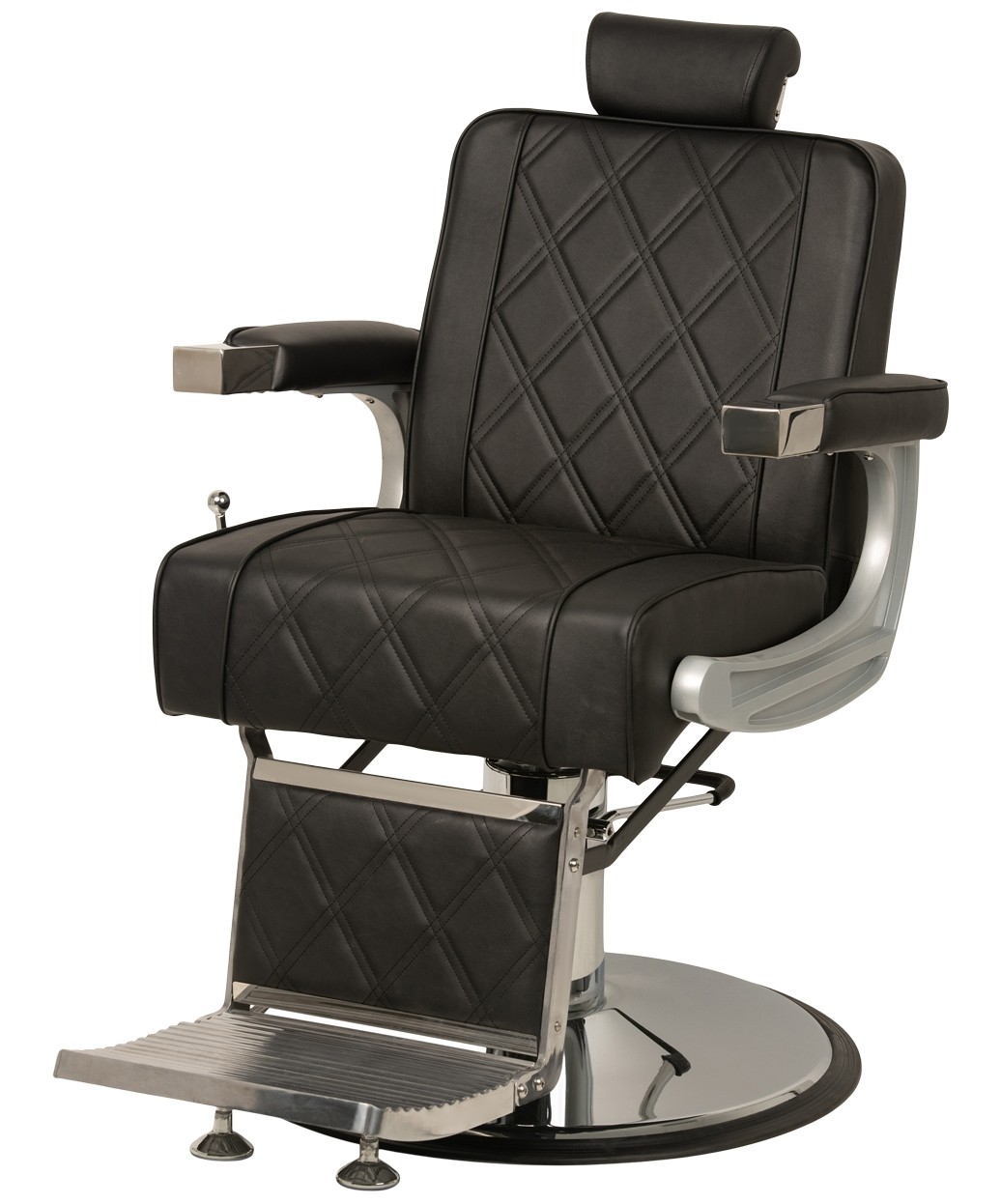 Bad credit or no credit? No problem. Reach your salon goals with Snap Financing!
Combine quality, durability, and a touch of class and style and you get the Aviator Professional Barber Chair. The Aviator barbershop chair provides extreme client comfort with its fully padded and upholstered seat and back cushions, padded and upholstered arm, calf, and leg rest a platform footrest with peg supports, and an extendable and removable headrest. These classic barber chairs were made to fit all clients with a heavy-duty hydraulic pump and round chrome base, 20" inches from arm to arm and holding up to 450 lbs. The Aviator features reinforced diamond stitching with white piping and is available in black or espresso, adding a classic, contemporary look to your barbershop.
The Collins B40 Cobalt Barber Chair is a best-seller and made 100% in the U.S.A. This chair boasts an industry best 10 year warranty on the 5550 hydraulic base and offers the highest level or quality and durability that you can find in the salon equipment industry. The durable metal-to-metal construction includes eight sets of ball-bearings for smooth operation and long-life, and the sealed hydraulic base includes an over-sized ultra-hick steel baseplate. The Cobalt is built to last, and ships fully assembled. Aside from the construction, this chair features a reclining back cushion with right and left handed controls for reclining ease. There is an adjustable and removable push-button headrest along with a cast aluminum extended footrest with roll-over calf pad. If you're looking for a professional barber chair that offers great style and performance at a great price, look no further than the Cobalt!
The Empire Barber Chair has become an instant bestseller combining the best of both modern and classical styles. The Empire barbershop chair features detailed upholstery with a double stitch pattern for great comfort and durability. The platform footrest comes complete with a tilt-out calf rest that will allow your clients the utmost comfort while receiving a cut, shave, or shampoo. The Empire barber chair also features a double-sided reclining mechanism so you are easily able to adjust the chair no matter what side you are operating from. This professional barber chair is extremely heavy-duty and is designed and built to be a true workhorse.
The Marcel Professional Barber Chair encompasses all things retro, with a brushed gunmetal finish and classic design. With 40 vibrant, durable vinyl colors to choose from, you can make the Marcel truly unique to your barbershop. The Marcel is constructed with top-of-the-line quality, unmatched ornate detailing, and a durable hydraulic base and pump that can hold up to 450 lbs. Your clients will be comfortable during their service with this upscale barber chair's soft, rounded seat and back cushions, padded armrests, adjustable headrest, and classic flip-style footrest. If you're looking for a retro style that you can customize with your own unique twist, the Marcel Professional Barber Chair is for you!
Offering the perfect combination of style, quality, comfort, and durability, the BB-225 Elegance Barber Chair by Takara Belmont is of unmatched quality and pulls out all the stops! The Elegance is fully customizable with 60 vinyl color options, your choice of a durable hydraulic base or upgraded electric base (available in 4 color options!), and an optional headrest, making this top-notch chair truly one-of-a-kind. The sleek aluminum body and frame give the Elegance a classic look while making it extremely durable and built to last. Made with the user in mind, Elegance barbershop chairs feature a towel bar and clipper hook, making your tools easily accessible. Takara Belmont BB-225 Elegance barbershop chairs are at the top of the class and are sure to satisfy any busy barber!
If you're looking for a top-of-the-line barber chair that's made in the USA and can be customized for your barbershop, the Pibbs 661 Seville Barber Chair is right for you! Available in 40 popular vinyl colors and optional piping, this heavy-duty barber chair can add a custom look to your barbershop, making it stand out from the crowd. The Seville was created to suit the needs of all of your clients, with an extra-wide seat, kick-out upholstered calf pad and footrest, and soft, adjustable headrest. With Pibbs 661 Seville Barber Chairs, you don't need to waste your time adjusting the footrest yourself, as the chrome side lever for the reclining mechanism raises the footrest in unison. Our clients love the Seville Barber Chair for its functionality, durability, and classic style!